STOLEN DOGS !!!! ARE FOUND !!!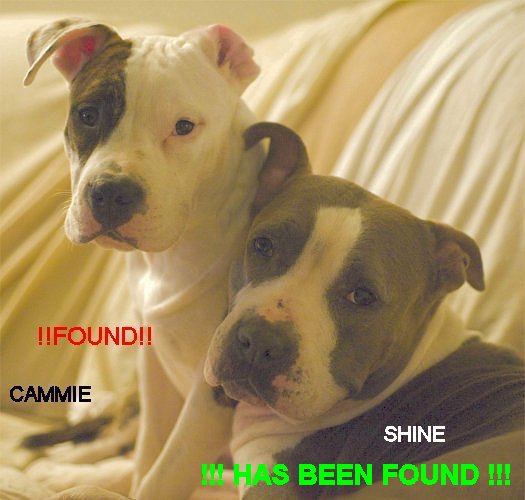 I got a call from Meredith tonight...5-29-09...and heard the great news that Shine has been found and is back home with her where she belongs!!!
ABC 33/40 did a broadcast about Cammie and Shine...and CAMMIE HAS BEEN RETURNED TO MEREDITH!! Unfortunately Shine is still missing. Shine is a 9 year old girl and has been with Meredith since she was a small puppy.
Cammie and Shine (both Females) were stolen from their owners yard in Birmingham, Alabama. Bolt cutters were used to take them. These are two house dogs who are loved very much. If you have seen them or have any information about them PLEASE contact their owner Meredith Rich at 205-789-3153. A REWARD is being offered. Also the following people can be contacted if you have any info at all.
Ryan Nichols - Office - 205-956-7362 - Cell - 205-746-3028 - Fax - 905-956-7365
Jacqueline Meyer, Executive Director Greater Birmingham Humane Society, 300 Snow Drive, Birmington, Alabama 35209 - Office - 205-942-1211 - Fax - 205-942-1213 - Cruelty Hot Line - 205-369-0392
Randy Christian, Jefferson County Sheriffs Office, 2200 8th Ave. North, Birminghan, Alabama 35203 - 205-325-5711